The following Outlook configuration applies for Apple Mac computers running recent Microsoft Outlook version.
Overview
1. Opening Accounts panel
To add/delete/modify new email Accounts to your Microsoft Outlook email client you first need to open the Account panel.
To do so, select 'Accounts' from the Outlook 'Tools' menu as descibed below: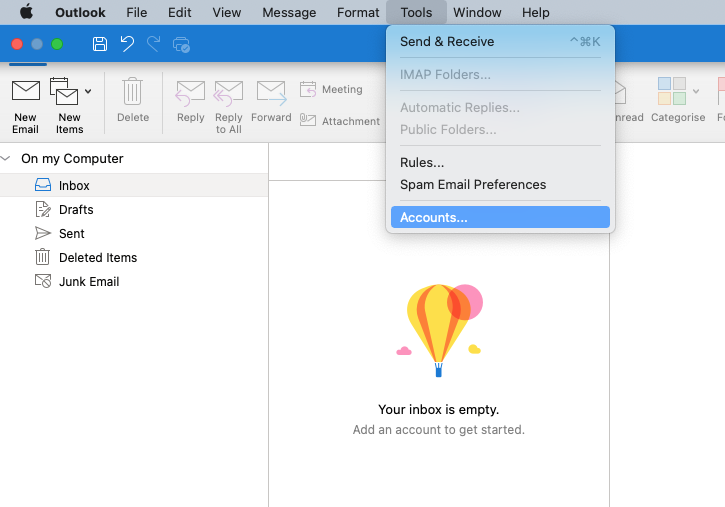 2. On the Accounts panel : Add Email Account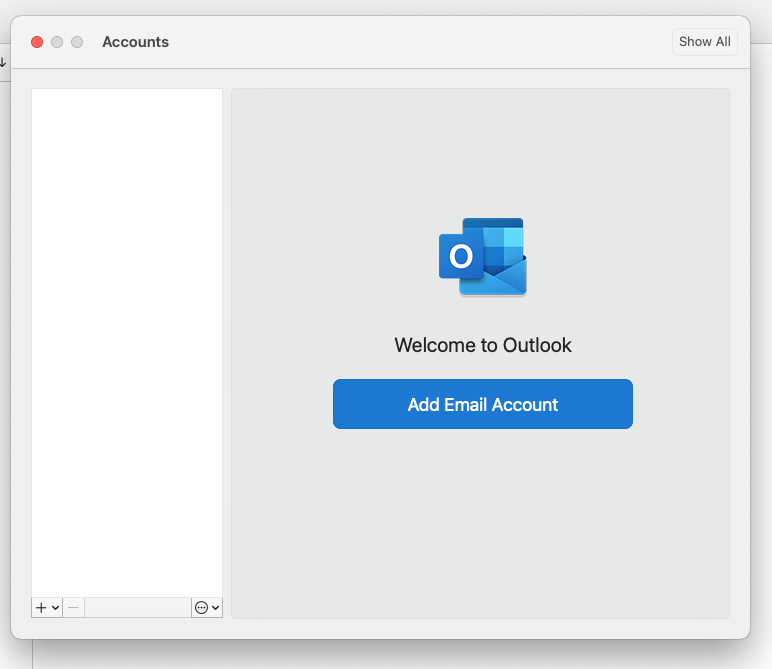 3. Enter your email address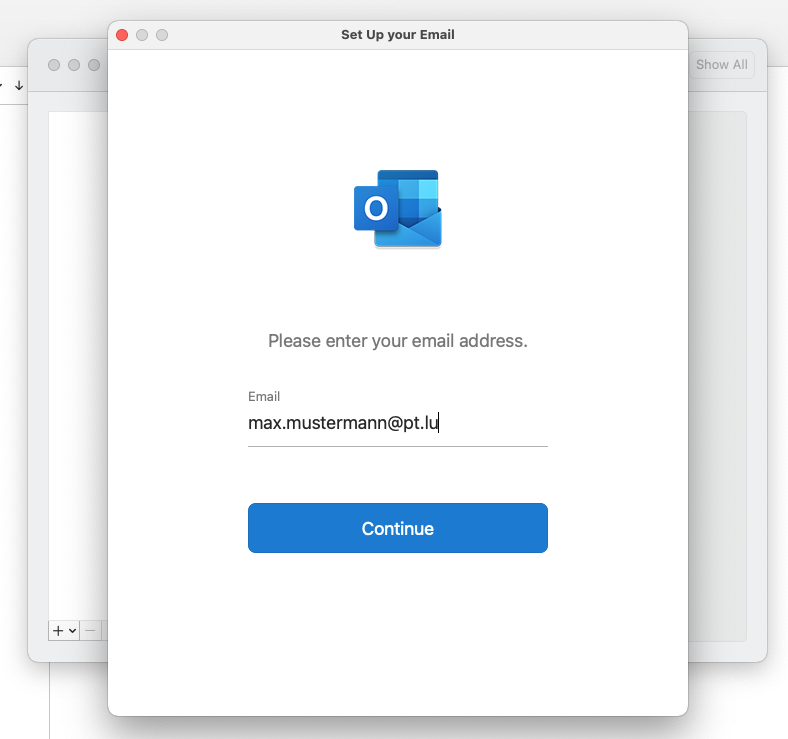 We used the dummy email address max.mustermann@pt.lu , of course you must provide your email address as delivered by POST Luxembourg.
Push the 'Continue' button to proceed.
By default Microsoft Outlook tries to configure your account like a Microsoft Exchange customer.
As your email address @pt.lu is not relying on a Microsoft Exchange infrastructue, you will need to select another provider -> see next step.
4. Choose the Provider
The email setup panel may display following:
When you see 'Still looking … ' the email setup process is trying to configure your account as an Exchange customer.
Please select 'Choose the Provider' to proceed to a panel where you can select the right email service provider option.
5. Select IMAP/POP as provider
After having interrupted the automatic Exchange setup process by selecting 'Choose the Provider' a new panel will be displayed, where you can select IMAP/POP as your email service provider: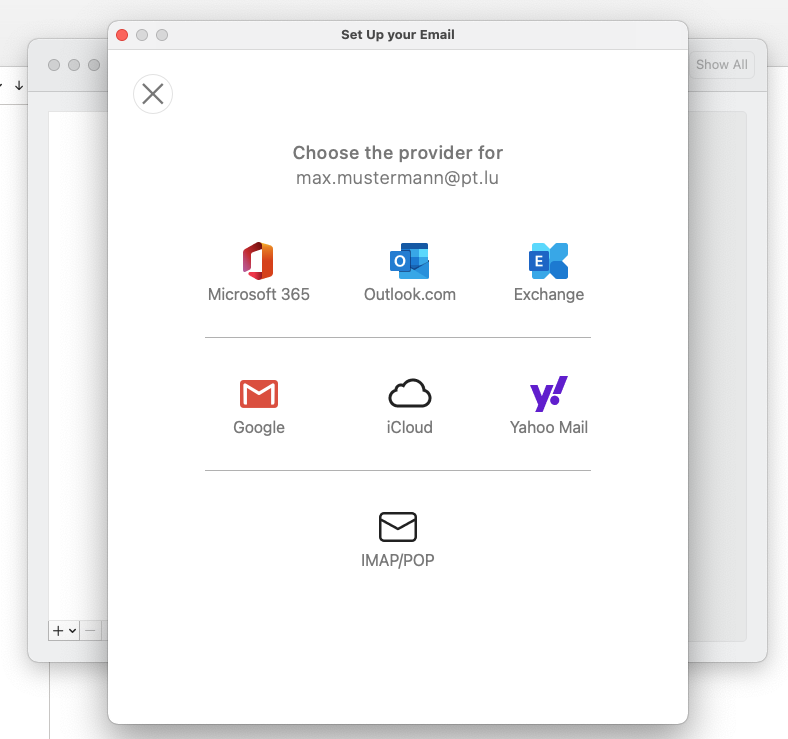 6. The IMAP setup panel
On the IMAP/POP setup panel, enter your credentials as described below:
use your credentials (email address/password) as delivered by POST Luxembourg
Incoming Server: imap.pt.lu – Port: 993 – Use SSL to connect
Outgoing Server: smtp.pt.lu – Port: 587 – Use SSL to connect
Attention: by default Outlook will define port 465 for Outgoing Server – please modify to port 587 !
To finalize your Outlook email configuration for your @pt.lu email account, please confirm the setup by pushing 'Add Account'.
7. Account creation finished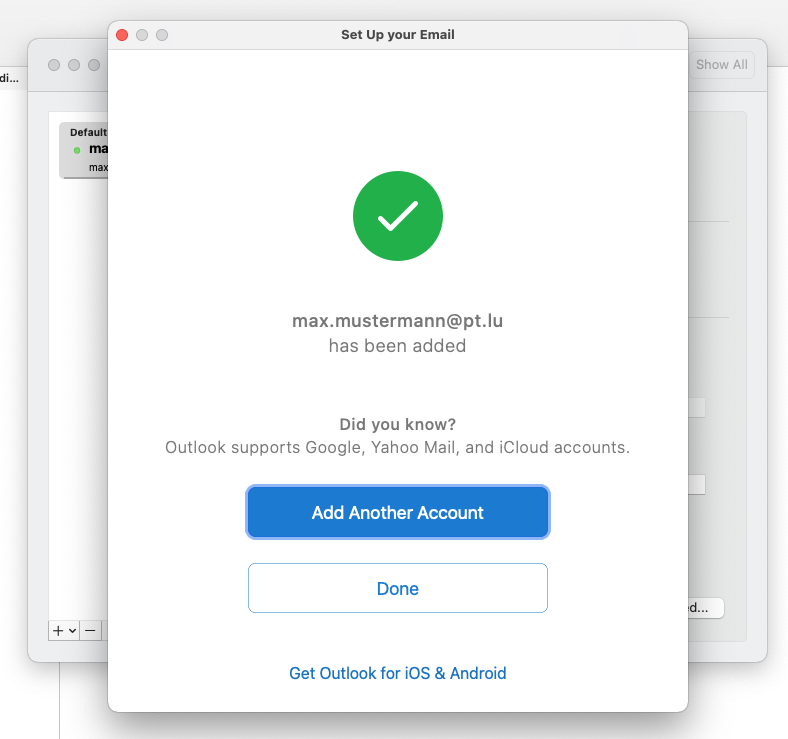 As far as you don't need to add another email account, you can approve the setup by pushing the 'Done' button.
Now your POST residential email address has been successfully configured on your Microsoft Outlook email client and you can start to read your mailbox or send out messages to any recipients.
Now when selecting Outlook's Accounts panel you will get displayed your @pt.lu email account setup as following:
You can modify your 'Full name' as desired.
The 'Full name' will be the friendly name (not the email address) as displayed on most modern email clients.
8. Modifying an existing Email Account
If you have already configured your Email Account and you need to modify the existing @pt.lu Account, you need simply to open the Account panel which will display all your email accounts already defined.
Select the one you would like to modify and apply your changes accordingly.
POST Luxembourg's email security policy requires encrypted and authenticated email connections – as well for IMAP/POP as for SMTP.
Your email account should be adapted as described on the following screenshot example :
Note: max.mustermann@pt.lu is only a dummy email address.
Please use your credentials as delivered by POST Luxembourg.
If you are modifying an existing @pt.lu email account please take care to modify also the Authentication process, which can be customized by passing by the 'More Options' button.
The 'More Options' button opens the Settings panel, which offers an 'Authentication' field.
Please select 'Use incoming Server Info' as authentication method which will use the same credentials for incoming as for outgoing connections.
Once you have modified your email Account and defined the correct Authentication method, your @pt.lu email address should be ready to receive and send messages identified by your Account and your email traffic is encrypted, as well for incoming as for outgoing.