The following description and screenshots should guide you to setup a new Apple iPhone Mail Account for your @pt.lu email address as well as modify an existing one to comply to POST's email security policy.
For demonstration purposes, we will use the dummy email address max.mustermann@pt.lu. When configuring your Mail app, please use the credentials as provided by POST Luxembourg during your initial service order.
iPhone Settings
Choose Provider
Add Mail Account
Customize Account
Modify existing Account
1. iPhone Settings
To add a new email Account or modify an existing one on your iPhone Mail client you must open the 'Settings' app on your iPhone: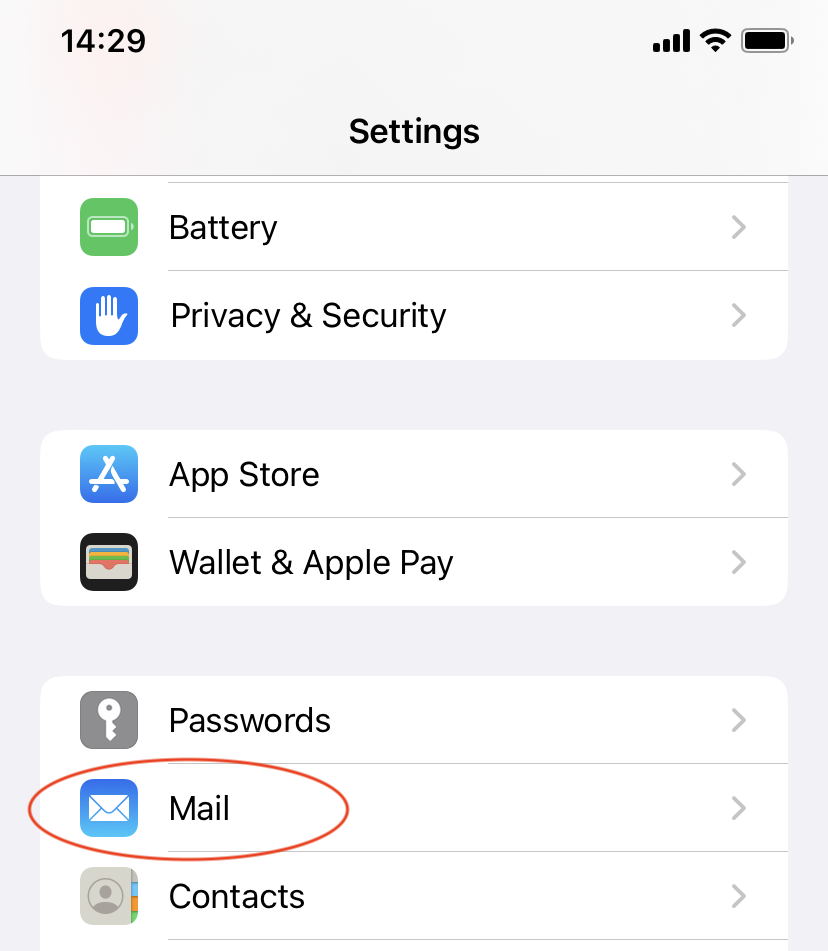 From the 'Settings' menu, please select the 'Mail' sub-menu: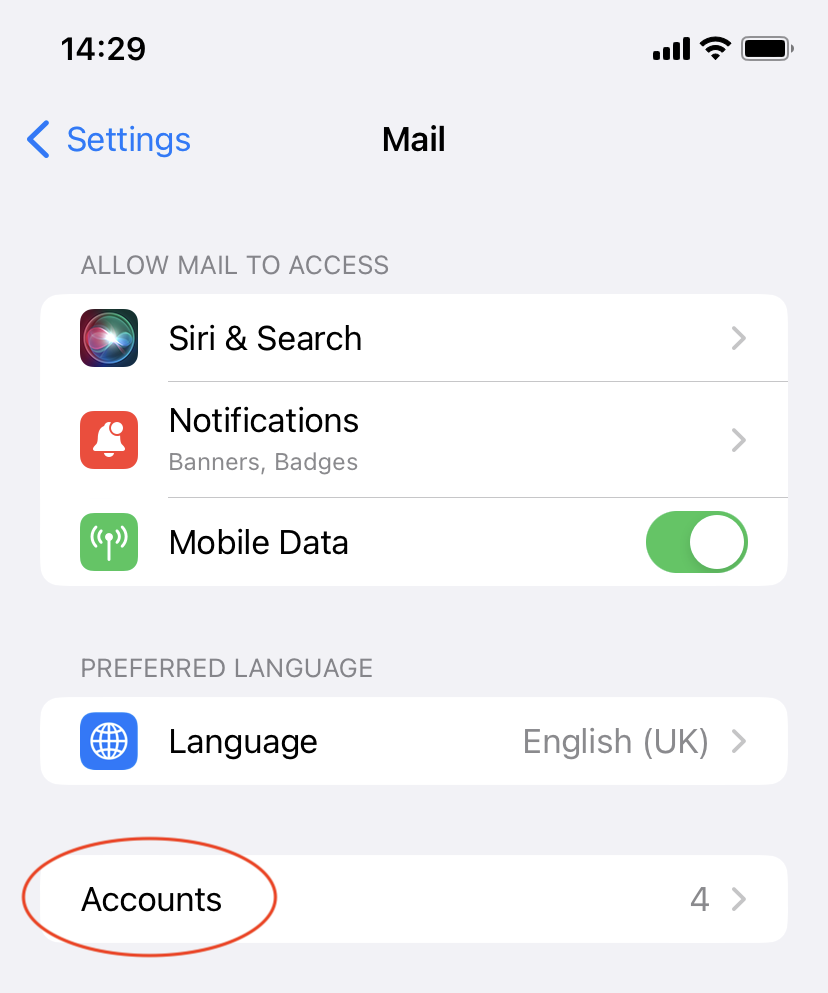 To add a new mail Account to your iPhone Mail app, please select now the 'Accounts' sub-menu which may display already existing Mail Accounts: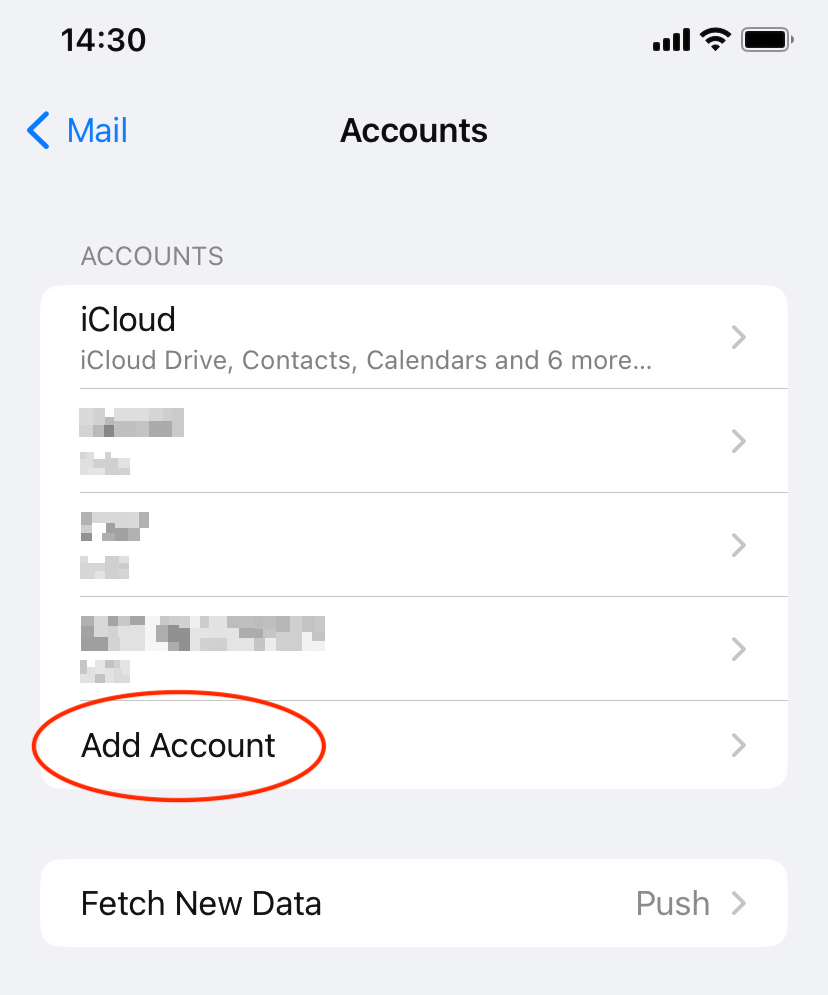 Now proceed with selecting 'Add Account' which will suggest a list of Email Service Providers.
2. Choose Provider
As the POST residential email services are not listed on Apple's provider list, please select 'Other' as following: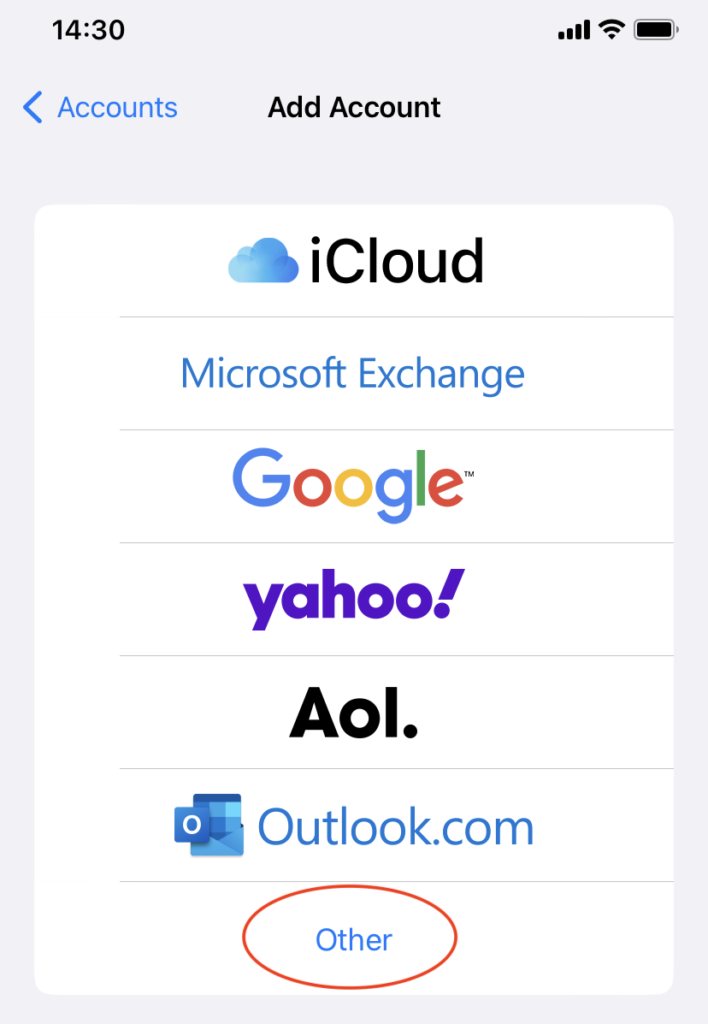 3. Add Mail Account
A new panel will be displayed. Please select here the 'Add Mail Account' option accordingly: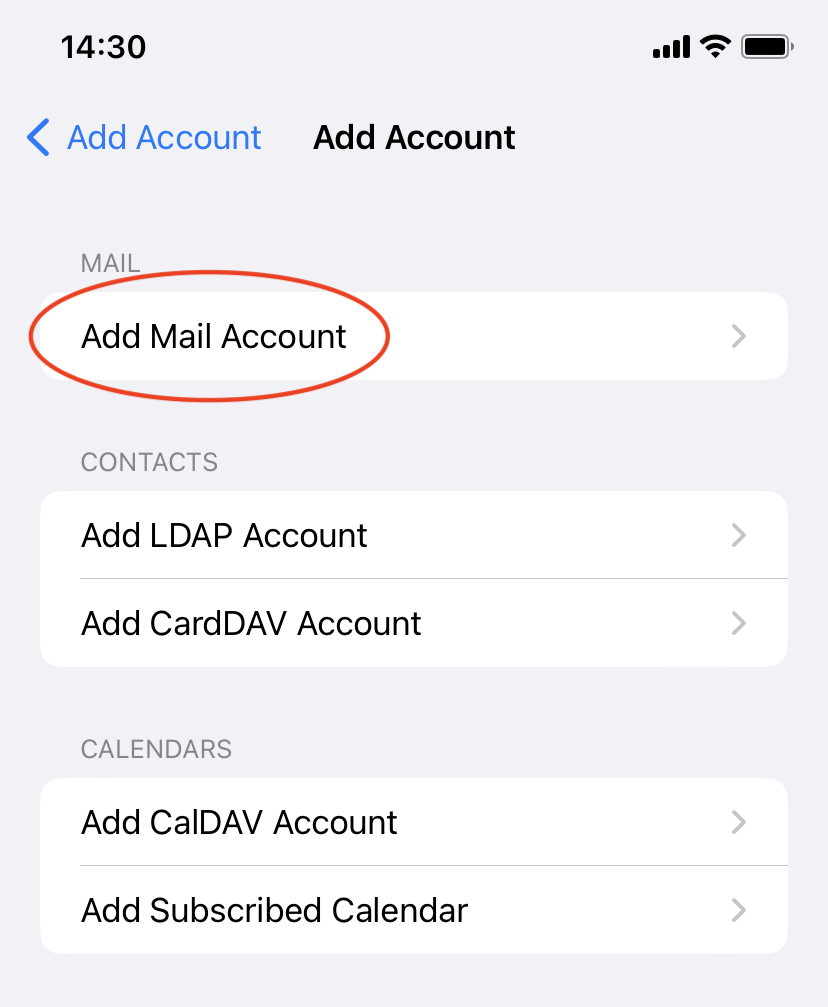 On the 'New Account' panel, please provide the details as requested:
your Name – i.e. Max Mustermann
your Email – i.e. max.mustermann@osmadmin
your password – as delivered by POST
a Description – optional data field, used to identify easily your different Mail Accounts
After having specified the necessary data, the Mail app will try to to identify the configuration.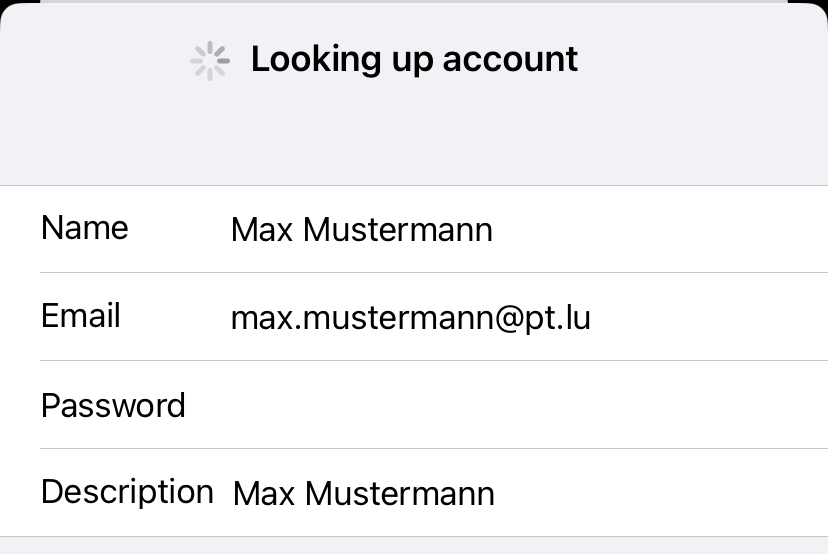 Currently, automatic configuration for iPhone Mail app is not yet possible, and so the following panel allows you to specify the necessary parameters: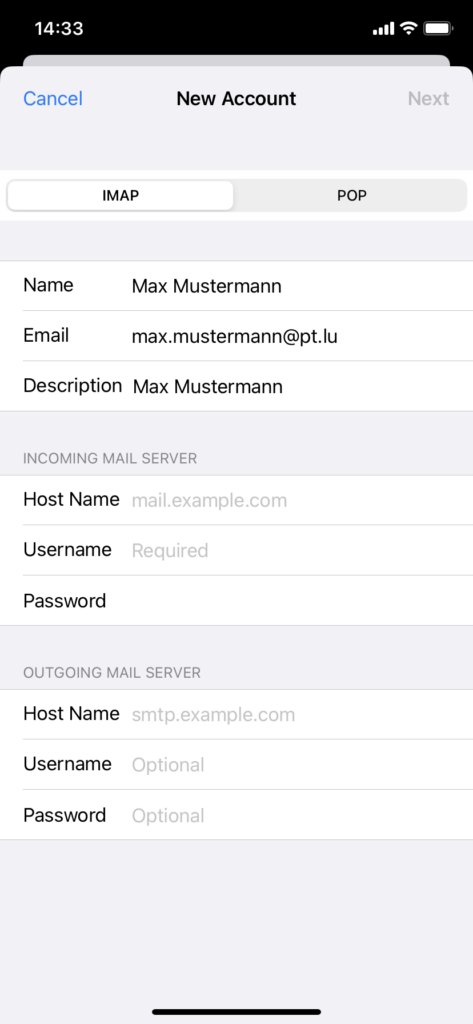 Please fill in the necessary parameters as following:
INCOMING MAIL SERVER: imap.pt.lu (IMAP is the preferred protocol)
USERNAME: your email address – i.e. max.mustermann@pt.lu
PASSWORD: password as delivered by POST
OUTGOING MAIL SERVER: smtp.pt.lu
USERNAME: your email address – i.e. max.mustermann@pt.lu
PASSWORD: password as delivered by POST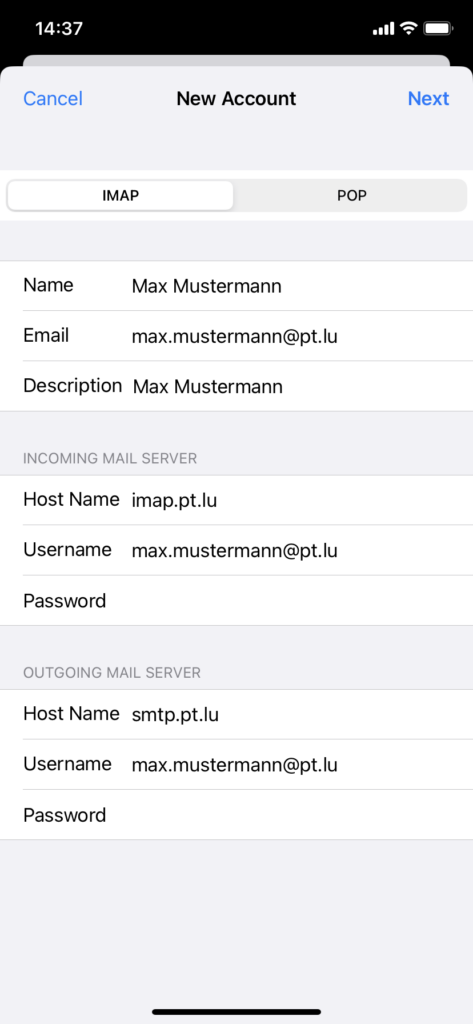 Confirm your entries using the 'Next' button on top right corner.
Now you should see that the app is 'Verifying' your data with POST's email server.
If all provided parameters were correct you should have a panel as following: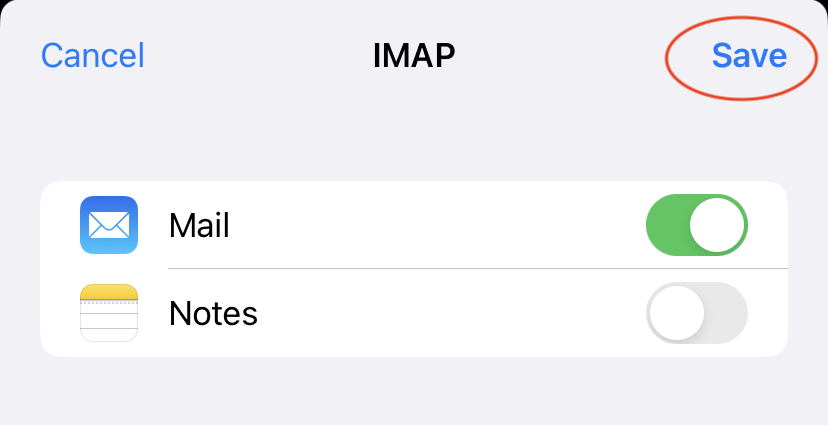 Finalize your new mail account using the 'Save' button (top right) – and you are done.